This wiki is about Zevo-3.
Characters
| | | |
| --- | --- | --- |
| The Good Guys | | |
| | | |
| The Bad Guys | | |
| | | |
| | | |
| | | |
| Supporting Cast | | |
| | | |
| | | |
| | | |
Featured Article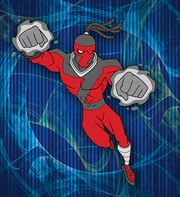 For 17-year-old Jason James, "question authority" isn't just a motto, it's a daily necessity. He's suspicious of every move city founder Brett Ronson III makes, no matter how benevolent it seems to be...and so far, he's found an ulterior motive every time. As Z-Strap, Jason can also transform all or part of his body into living metal, with all the attendant properties of whichever metal he chooses. He can even fire metal spikes from his hands and transform his limbs into various simple metallic weapons and tools. Eventually, with concentration he can change his entire body into mercury and flow through or around obstacles as "Liquid Z-Strap".
Read More
Related Pages
Join us on Facebook
Links
About Zevo-3
Zevo-3 (stylized as "ZEVO-3") is an upcoming animated action/adventure television series. It is scheduled to premiere on Nicktoons October 11, 2010. After being exposed to the mysterious Zevo Compound, three teenagers' lives are changed forever! Now, these new superheroes must protect New Eden City from the creator of the Zevo Compound, the evil Stankfoot and his mutant monsters before they destroy the city. 
Videos
Ad blocker interference detected!
Wikia is a free-to-use site that makes money from advertising. We have a modified experience for viewers using ad blockers

Wikia is not accessible if you've made further modifications. Remove the custom ad blocker rule(s) and the page will load as expected.